With 25 years of experience, Pro Sound & Electrical can handle any size job; from an intimate home listening room to a church audio system to a massive arena or stadium sound system. We are an innovative, full-service commercial sound, video and lighting company providing consultation, sales, design, rental and installation for any of your church, school, home or nightclub needs.
- Pro Sound & Electrical Audio Line Card -
a - b - c - d - e - f - g - h - i - j - k - l - m - n - o - p - q - r - s - t - u - v - w - x - y - z



Please Contact Us for More Information!
We here at Pro Sound & Electrical use only the very best in system components from the top manufactures such as JBL and Allen & Heath to bring you the best quality sound you demand. From consultations, sales, installation, to rental and production, we provide a high quality experience. But even more important to us, is that you are satisfied with the service that we offer. We are dedicated to our clients and your satisfaction with our services with products supplied from these fine companies we can achieve that.
Audio Install Images in Our Gallery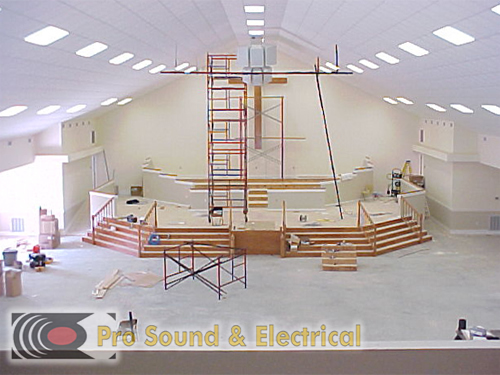 Pro Sound & Electrical Audio Complete Line Card
-- A --
| | | |
| --- | --- | --- |
| Aardvark | ADL | ADS |
| AKG | Alesis | Allen & Heath |
| Amek | Antares | Anvil |
| Aphex | API | Apogee Electronics |
| Apogee Sound | Arboretum | Acoustics Art |
| Ashley | Atlas Soundelier | Audio Control |
| AudioTechnica | Audix | Avalon |
| | Avid | |
| | | |
-- B --
| | | |
| --- | --- | --- |
| Bag End | Behringer | Beyer Dynamic |
| Blue Microphones | Brauner Microphones | Bryston |
| | BSS | |
| | | |
-- C --
| | | |
| --- | --- | --- |
| CAD | Canare | Carver |
| Crest | Crown | |
| | | |
-- D --
| | | |
| --- | --- | --- |
| D Drum | Dalite | DBX |
| Demeter | Denon | DigiDesign |
| DOD | Dynaudio Nord Lead | |
| | | |
-- E --
| | | |
| --- | --- | --- |
| Earthworks | East West | EAW |
| Electro Voice | E Magic | EMU |
| Ensoniq | Event Electronics | Eventide |
| | | |
-- F --
| | | |
| --- | --- | --- |
| Fatar | Focusrite | Fostex |
| | Furman | |
| | | |
-- G --
| | | |
| --- | --- | --- |
| Galaxy | Gefen Systems | Genelec |
| Gepco | Glyph Tech | Gotham |
| Grace Designs | Gray Matter | |
| | | |
-- H --
-- J --
| | | |
| --- | --- | --- |
| JBL | JL Cooper | Joe Meek |
| John Hardy | Juice Goose | JVC |
| | | |
-- K --
| | | |
| --- | --- | --- |
| KlarkTeknik | Korg | Kurzweil |
| | | |
-- L --
-- M --
| | | |
| --- | --- | --- |
| Mackie | Manley | Mark of the Unicorn |
| Meyer Sound | Middle Atlantic | Midi Man |
| Mogami | Music Industries | |
| | | |
-- N --
-- O --
-- P --
| | | |
| --- | --- | --- |
| Panasonic | Pioneer | Polk Audio |
| | Pro Co | |
| | | |
-- Q --
-- R --
| | | |
| --- | --- | --- |
| Rane | Rocktron | Roland Fuil Line |
| RPG | RSP Tech | |
| | | |
-- S --
| | | |
| --- | --- | --- |
| Sabine | Sennheiser | Sharp Projectors |
| Shure | Sony | Sound Ideas |
| SPL | Steinberg | Stew Art |
| Studio Electronics | Summit Audio | Switchcraft |
| | Symetrix | |
| | | |
-- T --
| | | |
| --- | --- | --- |
| T C Electronics | TLAudio | Tannoy |
| Tescam | Telex | Tube Tech |
| | | |
-- U --
-- W --
-- Y --
-- Z --