Complete range of products for inside and out
Pro Sound & Electrical has luminaires, smoke machines, video walls, effect lighting and controllers cover all your needs, from lighting the parking lot, projecting a name or an image onto your building, and ensuring the same visual impact at your satellite venues.
Inside, we help you create precisely the lighting required for different areas, for example adding excitement to a children's area, tranquility to a library or meeting room, and great effects with images and colors for all kinds of shows, events, and special themes.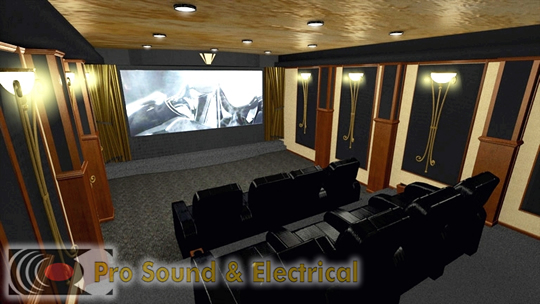 Pro Sound Electrical works with you and your vision
We understand the challenge of communicating an experience. Our many years in the lighting and effects industry as well as our ability to support our solutions mean we can help you rise to the challenge and lift your worship experience to the next level.
Future growth ensured by a true partnership
Pro Sound Electrical solutions are for the long-term, and our personnel know the market and will work closely with you, answering your questions and supporting your needs, no matter how small the task. We offer you our consultancy services pre-sales, stay close throughout the sales and installation period, and of course we provide full after-sales support on all our products.
At Pro Sound Electrical, our goal is to ensure that our customers grow with us, in a planned and ppropriate manner, for example if your Ministry expands to satellite venues.
Building our business for over 20 years
For over 20 years, Pro Sound Electrical has been building relationships in the industry, and today we have a customer reference list that is second to none.
Catering to your needs with Top Quality lighting systems
Today, Entertainment venues, Ministries, and other events have to appeal to all age groups, provide traditional and contemporary experiences, and offer music, shows, and events, often under the same roof with just hours in between. Pro Sound & Electrical in partnership with industry leaders such as Martin, Da-lite, and now, AMX, whom we are commercial dealers for, can provide you with just the right experience for the right price, done right.
Fog & Haze
What
Fog and haze machines are important as great effect and atmosphere generators. Pro Sound Electrical's fog, haze and heavy fog machines cover the full spectrum from large to small, and use environmentally-friendly, water-based fluids that meet industry standards.
Why
Fog and haze provides an airborne projection canopy that lets mid-air effect beams become visible, for example from moving beams of light or projections. Low-lying fog effects add drama, such as a cascading 'waterfall' of fog.
Ideal for
Use anywhere, to create atmospheric effects at floor-level and in mid-air, and to highlight lighting, such as mid-air projections and beams.
Service
What
Not only are you buying into the best lighting technology, you are also offered an extensive package of service and support unmatched in the lighting industry. Service packages are ultimately about peace of mind, but they make great financial sense too. In harnessing the expertise of Pro Sound Electrical's technicians you ensure that your lighting system will be operating at the optimum performance while greatly extending the life expectancy.
Ideal for
Pro Sound Electrical can tailor a service contract to match your requirements. Service contracts offer long-term peace of mind, because you know what to expect with costs fixed in advance and the backing of professionally-trained and qualified technicians. Several levels of service are available, depending on the requirements of your Ministry.
Whatever your stage, Pro Sound & Electrical has the products, experience and expertise for lighting professionals and amateurs in every field:
Theater
Television/ Studios
Film
ENG/EFP
Worship
Production and A/V
Themed Environments/Retail
Wholesale/Resale Supply
The Proof is in the Delivery. Any company can promise great personal service, and most do, but the proof is in the delivery. Lamps, tape and gel are commodities. Expertise, packaging and personal service are where you get what you pay for. We can't earn your loyalty without them. For every employee - from accounting to sales to shipping - there is a single driving philosophy: Connect the customer with what they need, when they need it, at a fair price.